"With DMD, some people think we just choose what we want to do and what we can do. It's the opposite. We know what we are able to do, and we know how to push ourselves."

Tommy's bright blue eyes stare with wonder at the giant machines that surround him-airport crash tenders: specialty fire trucks used for the rare but dangerous situation of a crash or fire on the tarmac. Along with his two sisters, Chayanne and Melanie, and TJ, his dad, Tommy was invited to tour the Lee County Port Authority Fire Rescue at the Southwest Florida International Airport. He navigates around the behemoth machines, more similar to tanks or monster trucks than typical fire engines. Tommy's head nods with enthusiasm as the staff explains the various features of these 24-ton vehicles, their applications, and the specific skills required to operate one.

Tommy has long been excited by specialty machines and vehicles, and it's not hard to see why. Using his right hand, he deftly maneuvers his automatic wheelchair through the station bay using a small joystick on the armrest. A machine worthy of admiration in its own right, the wheelchair allows him ample mobility without the use of his legs. Tommy was born with Duchenne muscular dystrophy (DMD), a genetic disorder where his body does not maintain muscle mass due to an inborn lack of the protein dystrophin. The X-linked condition affects boys, significantly shortening their lifespans by weakening the muscles of the heart and lungs, leading to the potential of cardiac or respiratory failure.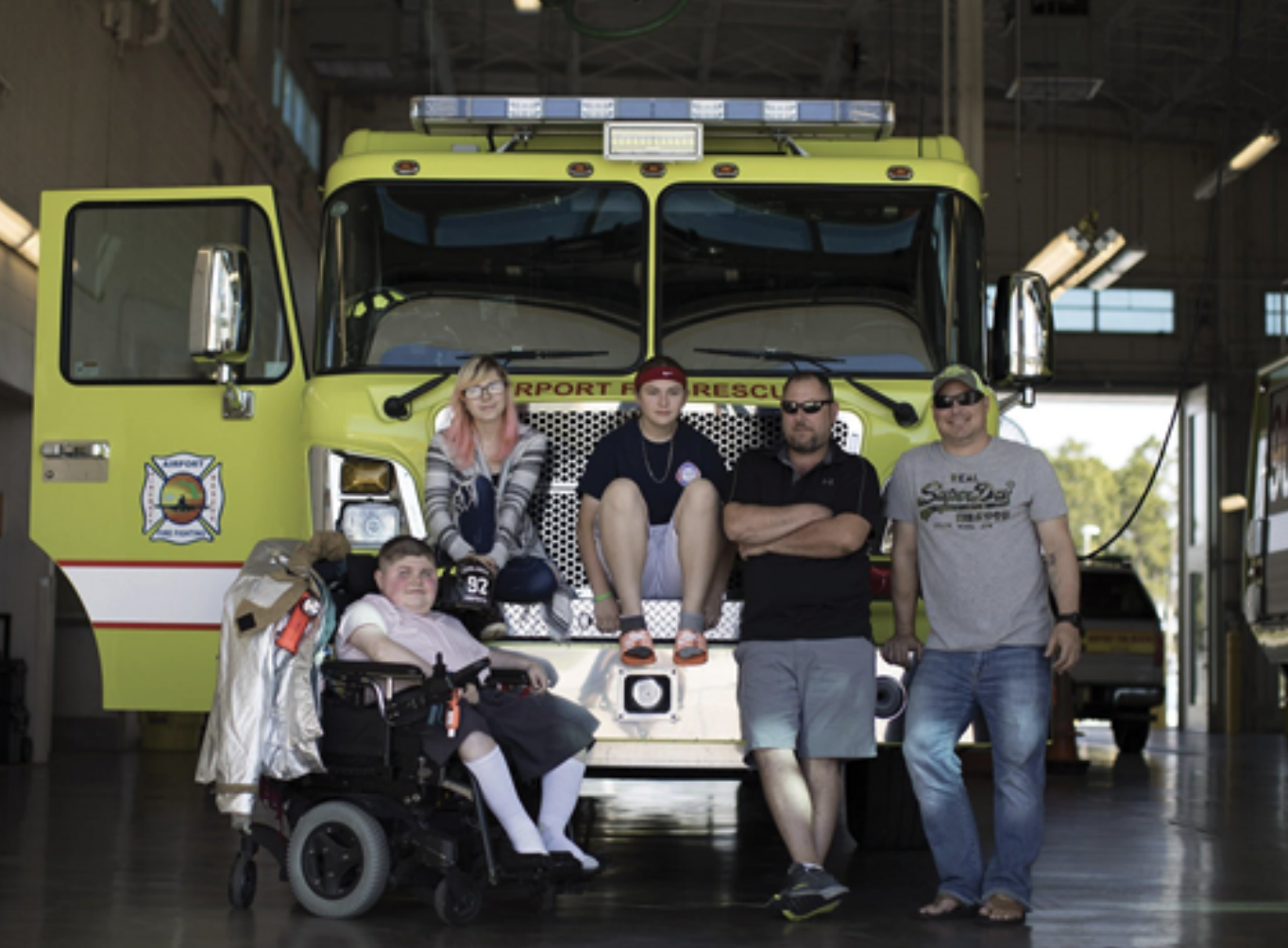 Tommy's diagnosis also first brought him into contact with local fire departments, where he has worked for the last 14 years helping with the annual Fill the Boot Drive to support the Southwest Florida chapter of the Muscular Dystrophy Association (MDA). Carrying empty rubber boots, he teams up with local firefighters each year to fill them with cash. The Boot Drive, an event first inspired in 1954, unites the International Association of Firefighters (IAFF) with the nation's oldest patient organization, and has remained a powerful ally for raising funds and awareness in communities across the world in the fight against DMD and other forms of muscular dystrophy.

"My health is really important to me," says Tommy. "If I'm healthy I can do my normal activities, but when I'm not, it's hard to get them accomplished." Prioritizing his health allows Tommy to remain at school, instead of at home or in the hospital, as even routine illnesses can have severe complications. Tommy's sicknesses are offset by the dutiful care and assistance he gets from his family and his medical team. He is profoundly grateful for the myriad of medical professionals who have shown up over the years to navigate difficult circumstances.

At home, Tommy gets assistance from nurses and family members. "I know they will always be by my side," he says assuredly. His care is spearheaded by TJ, who manages scheduling and helps drive him to routine appointments. "I have a great network of people for Tommy," says TJ, "to fight for him or get something accomplished. Everyone puts their heads together. We can make it happen. It's not often that a 'no' remains a 'no'."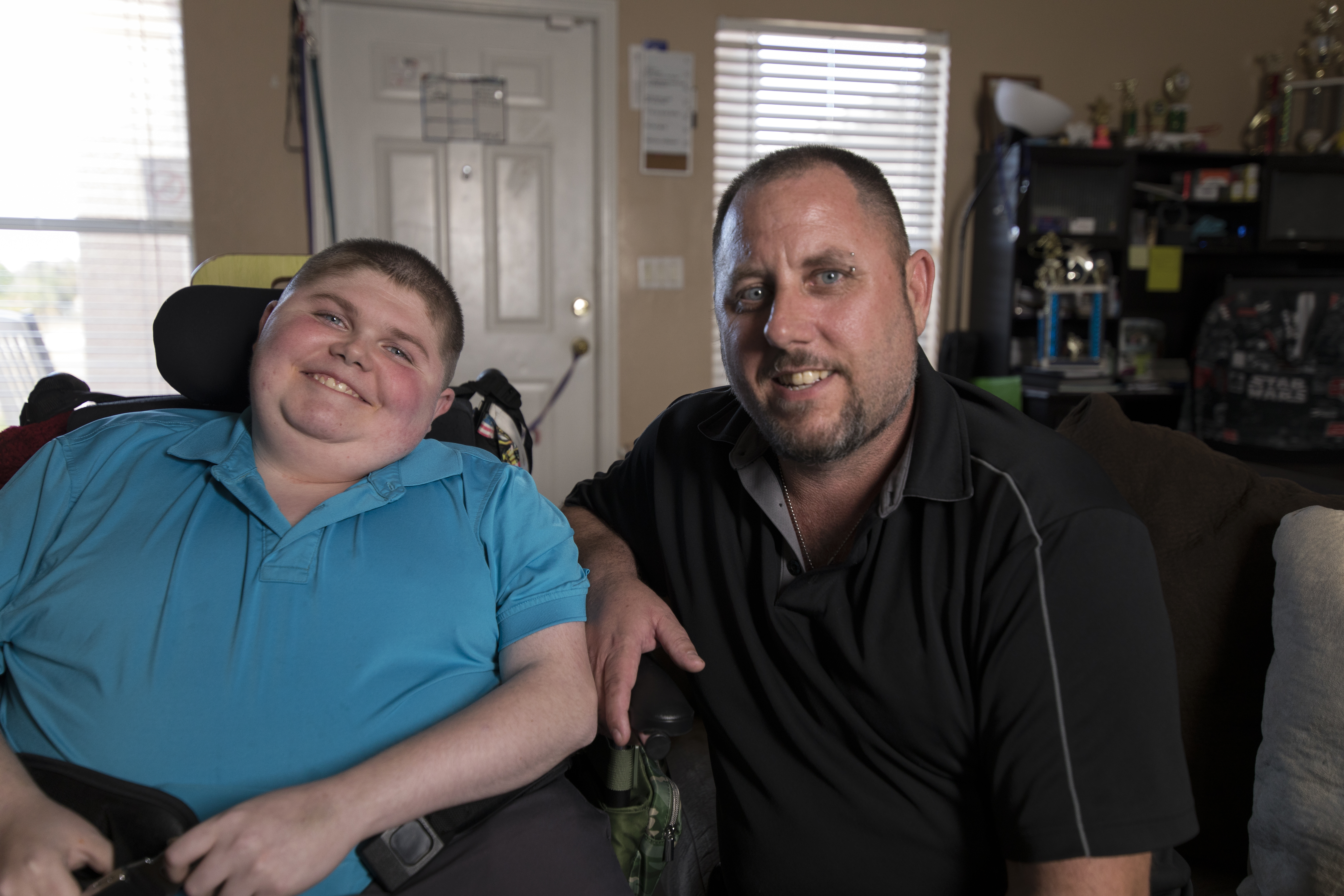 TJ has ridden with Tommy through some extremely challenging times, while providing for two other children, all as a single dad. To complicate matters, TJ has battled multiple sclerosis (MS) for much of the last decade, meaning that he must also closely monitor his day-to-day health needs. TJ once worked 70-hour weeks as a diesel mechanic, but now lives on disability. Getting help from his sisters has been crucial to addressing Tommy's increasing physical needs.

As he has grown older, his mobility has generally declined. "Even though I was born one hour after Tommy," says Chayanne, his fraternal twin-sister, "I've had to take on the big-sister role." She assists him with basic activities, like getting out of bed and eating. "In a situation like this it takes a lot of patience and sacrifice," she says. "It's not simple. You find that even at your lowest points, you have to push through." With support, Tommy is aiming to graduate from high school this coming year and looks forward to attending college and finding fulfilling employment.

Tommy's relative stability right now comes from years of support via TJ's proactive attitude. "My dad noticed before anybody," says Tommy. TJ noticed that Tommy, only a toddler, had started to lag behind Chayanne developmentally.

"The main thing that caught my eye and gave me a bad feeling was how his legs appeared," recalls TJ, "his calves and his ankles. And his feet were toed out." TJ brought him to seven different pediatricians until he found one with a background in orthopedics who was willing to do further tests (and who remains his primary physician today). His creatine kinase (CK) levels tested high and his medical team decided to run DNA tests. The tests returned with clear results and Tommy was diagnosed with DMD before his third birthday.

The shocking information was difficult for TJ to process. "I was very young when I had my children," he says. "I was used to the idea that when you were sick you went to see a doctor, they gave you medicine, and you're good. They asked me: Do you have any idea what you're dealing with? Then, a nurse came in and gave me a book: Journey of Love: A Parent's Guide to Duchenne Muscular Dystrophy." The book, originally published by the MDA in 1998, served a generation of families who were faced with the disease. "It explained the whole nature of it," says TJ. "It took me a really long time to accept it. It's mind-boggling to accept the fact that you can't fix this, the doctors can't fix this."

"It took about a year for it to finally sink in," TJ continues. "Then, I reached out to the MDA. We became involved with them and started fundraisers and doing different things. Once I accepted it, I never really looked back. I always look forward. We just deal with stuff as it comes up. We cross each bridge as we get there." Several years ago, Tommy signed up for the MDA Summer Camp, which gave him the opportunity to get to know others with his condition. "Everybody [there] has an illness," says Tommy. "They don't look at you differently. It's like a big family." The experience was deeply empowering.

As Tommy's mobility decreased with age, he began using adaptive technologies to help him get around, including his power wheelchair. However, DMD's most deadly effects-the weakening of the respiratory and cardiac systems-required that he take a more active approach.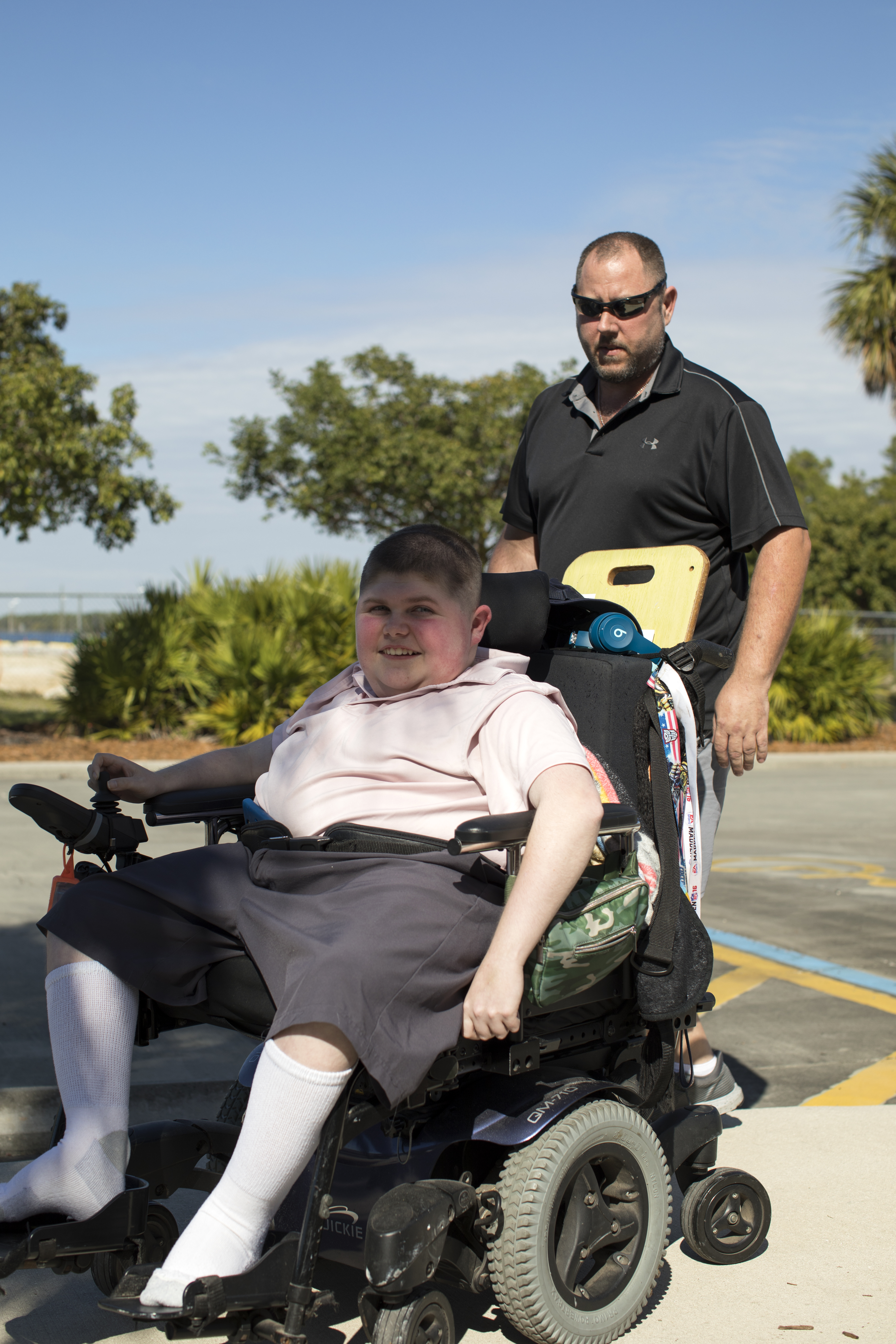 Now, Tommy uses a BiPap to support his ventilation at night, a Cough-Assist to clear phlegm from his airways and takes bronchodilators and corticosteroids to help keep them open.

Despite their best efforts, Tommy has experienced severe respiratory symptoms. "About two-and-a-half years ago I had my first respiratory failure," he says. In the hospital for a GI procedure, Tommy's sister first noticed that he wasn't breathing properly while sleeping. The staff acted quickly and rushed Tommy to the ICU where he would remain for the next three-and-a-half months. "They got him there, started supporting him with machines, and got him breathing," remembers TJ. "From that point on, we were just trying to get him stable enough to get him home."

Since the harrowing event, Tommy gained a crucial new tool in his fight. In 2016, the first exon-skipping drug to be approved for certain genetic mutations of DMD became available. TJ poured his time into getting Tommy on the drug and since then has fought to maintain access. "It doesn't cure Duchenne," says TJ. "But it slows it down." Tommy has seen improvements to his muscle strength since starting the medication. "It's changed his life completely," says TJ. "He wasn't able to steadily hold a cup and bring it to his face. Now, he can actually use a knife and fork. He can cut his own food. He can feed himself. He has gained back skills that he lost." Orsini, the specialty pharmacy that provides the drug, have been helpful allies. "When we hit roadblocks and we have to change how we administer the drugs, we just reach out to them...They do everything and anything they can for Tommy."

This assistance has been a great help in making TJ's life a little easier. "It's really hard to be a single parent," he says. "You just do what you need to do for your children. On top of that, dealing with Duchenne is extremely overwhelming. It's a daily battle with insurance with medicines, pharmacies, schools, attendance... There are so many things involved." Amidst the nonstop care and occasional chaos in their lives, Tommy's family gets limited opportunity for leisure activities. "We don't go out much, between the doctor appointments and school," TJ admits. "We are normally on the go, but we try to make fun things happen."

One of Tommy's favorite activities is bowling, which he and Chayanne started in the ninth grade. Later that day, Tommy pulls his chair up to the lane at a local bowling alley, squaring himself to the rack of pins waiting on the far end and placing his legs under an aluminum rack. TJ hands Tommy his bowling ball, which was custom-made by a local pro shop. Using a counter-weighted pin, Tommy can control the spin on the 16-pound ball and perfect his skills and accuracy. "Tommy can bowl a 180," adds TJ impressively. The game allows him to stay involved in school sports and bond with family. "You never hear Tommy complain," reflects TJ. "He never says this isn't fair or why me. He's been dealing with it his whole life. His outlook is so positive. It helps me. If he can do it, then I can do it. If he can get through it, then I can get through it." His father and sisters cheer him on as he clears the pins yet again. The cracking of pins rings out over their laughter and conversation. "We've learned to do so many things and overcome them," says TJ. "We stick together through the hard times. We fight through it and we really enjoy the good ones."


Read Tommy's Poem About Living with DMD
What is Duchenne muscular dystrophy (DMD)?
​
Duchenne muscular dystrophy (DMD) is a genetic, progressive form of muscular dystrophy that occurs primarily in males. It is caused by genetic changes in the DMD gene and is inherited in an X-linked recessive pattern. X-linked means the gene for the condition is located on the X chromosome. In males, one altered copy of the gene is enough to cause DMD. DMD causes progressive weakness and muscle atrophy. In early signs of the disease, DMD may cause a delayed ability to sit, stand, or walk, and can make learning to speak difficult for the patient.
​