"Now that I'm living by myself again, I'm focusing on me."


Wanda and her friends pull into the darkened parking lot, not far from the New Rochelle High School. They come to a stop with the headlights shining through the chain-link fence, casting light onto an empty basketball court. Beams from other cars soon join, one after another, until the entire tarmac stands illuminated. Wanda opens her door and bends forward to tighten her laces and stretch her legs, readying herself for a night of hoops under the lights. Like clockwork, the other cars cut their engines but keep their high-beams on, the idling replaced by the sound of basketballs against the concrete. Wanda smiles and greets her friends, those who on many a comfortable night like this, would test their skills against each other in friendly competition.


In her teens, Wanda was known to be fierce and quick on the basketball court, and her athleticism extended to track and softball. Growing up, there were few joys that truly rivaled sports. "I was a tomboy my whole life," she says. "Instead of calling my brother to play sports, his friends would call me." Her natural ability and drive to practice helped her win spots on her schools' teams. She had lots of friends and enjoyed her time in school. While Wanda certainly loved competition, her fondest memories have little to do with winning. "It was about good teamwork," she says. "Learning to trust each other. I had a lot of good friends growing up. We supported each other."

Keeping friends close by, she transitioned well into adulthood - her enthusiasm and fun-loving spirit evoked during her trips to New York City, a train ride away, where she enjoyed nightlife, music, and most of all, dancing. She made a decent living working various jobs. She met a man, got engaged, and was married at 27. The two created a home together.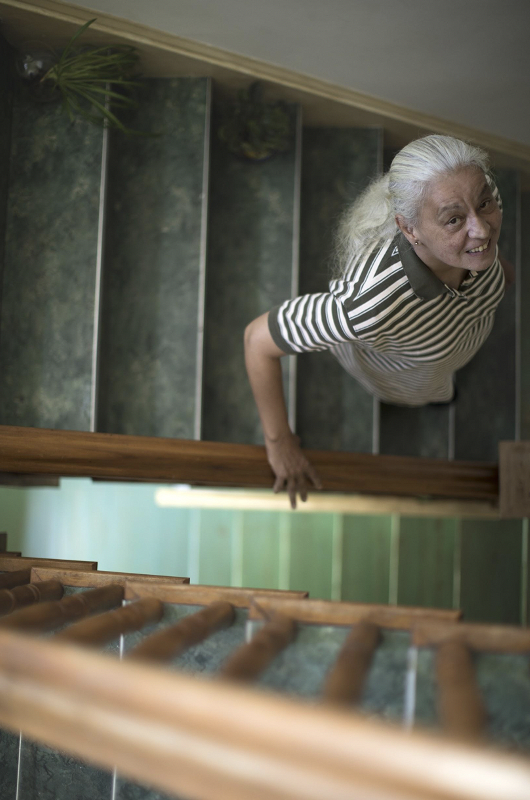 Wanda, now 53, still lives in New Rochelle. "I just moved into my new place," she says, smiling while holding the banister as she walks up to the third floor. Feeling content in her new home would be an understatement. For Wanda, this place is a haven. It is a tangible symbol of stability - something she has had to fight for during the last two decades of her life.

"Now that I'm living by myself again, I'm focusing on me," she attests. It's been years since Wanda has had a place to call home. Her struggle with mental illness, specifically paranoid schizophrenia, has wrought innumerable difficulties, which forced her from her last consistent housing and into a series of challenging transitions. One of these has been learning to live with tardive dyskinesia (TD), a disorder caused by the neuroleptic medications that she takes to manage her schizophrenia. The same medicines that helped Wanda restart her life, also left her with involuntary tics and movements in her hands and face, which is thought to be caused by a disruption to the dopamine transmitter in the brain. However, with an FDA-approved treatment, Wanda has been able to manage her condition and continue her route to recovery. "I'm almost 100%," she says. "I want to go back to work. I miss working." Next for Wanda, who survives off of disability income, is the hope to rejoin the workforce. With medicine, counseling, and now a new apartment to herself, she is progressing back toward stability, and away from the harsh reality of mental illness.

Around the age of 30, Wanda started hearing voices in her head, very different from her own. "I would get these thoughts: criticism, or to do something to a person," she says. "I won't even repeat what some of the thoughts were." The normally congenial woman who barely ever swore was disturbed by her own invective. She turned to her husband at the time for help. "I told him I wanted to go to counseling." He strongly disagreed and discouraged her from going to a psychologist or psychiatrist. "He told me, 'Those people are going to drug you out of your mind. They're going to control you.'" Fueled by his reproach and denial, the reality that Wanda faced only got more difficult.

"There were so many voices that my head would hurt," she remembers. "I used to cry from the voices." Her thoughts began to surface to her lips. "By the time I was 37, it was full-blown… On the street, when I was alone, I would carry on whole conversations about who pissed me off." Many family members and friends distanced themselves, some afraid, some disdainful, and others apathetic. Her own mother refused to speak to her. The daily burden was exhausting, and Wanda sank into depression.

"I thought I was possessed," she exclaims. "When you're that sick, these thoughts come into your mind." For seven years, she resisted seeking help or getting on medications. "I was afraid to take medication. I thought it would turn me into a zombie or something." The once bright future that Wanda desired became littered with ominous doubts and dire premonitions. "I was worried that my mind was going to stop working, that I was never going to heal at all," she reflects.

Out of desperation, or perhaps unseen intuition, Wanda decided to visit a psychic, sure that her forthcoming downfall would be as obvious to them as it was to her. "I went to a fortune teller to find out how long I was going to live. That's how worried I was." However, the psychic told her quite the opposite. "They said, you're going to live a long time—you're going to go through a lot of suffering—but you're going to be fine. That motivated me to keep trying even more." Wanda was relieved but not convinced, so she began to trek across the Tri-state area in search of other fortune tellers. "I didn't tell them anything about myself, to see if their answers were different," she says, "but they all told me the same thing."

She took action. She divorced her husband of 10 years and checked herself into an institution where she stayed for a month while mental health specialists worked to understand her diagnosis. "They told me, 'You're not possessed. You have a chemical imbalance in your brain.'" She was diagnosed with paranoid schizophrenia and started taking antipsychotic medications. She also started treating her migraine headaches and insomnia, which wreaked havoc on her mental state.

She left the hospital and moved into a shelter in the city. Wanda shared a room with three other women and each day they were required to leave the shelter to seek services. She began intensive counseling at St Vincent's Hospital, a program that she attended diligently for two years. "They would teach us how to deal with the illness," she remembers. Doctors titrated her doses and attempted to give Wanda maximum relief from her symptoms. In concert with steady counseling, her mental health began to improve. "Once the thoughts stopped, I was so happy," she says. She went from seeing a counselor every day, to once a week, and from seeing a psychiatrist every week, to every few months.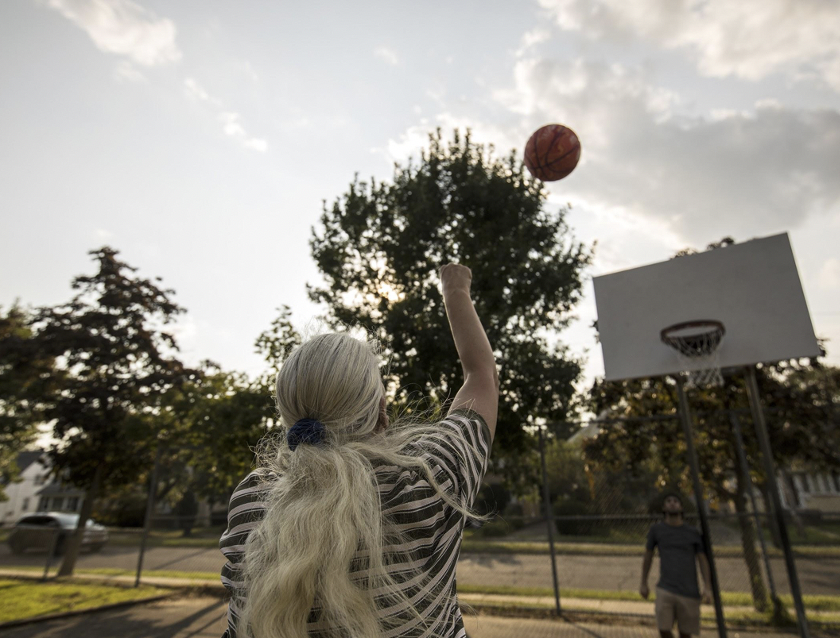 Wanda eventually moved into a room at the YMCA in Yonkers, which allowed for more independence, although the building still maintained a curfew. Being closer to New Rochelle, the new, more resilient Wanda reached out to her mother, who she hadn't spoken to in over six years. In her old age, Wanda's mother had developed severe dementia, and now, much like Wanda, she had become the pariah of the family that nobody wanted to deal with. Wanda stepped up compassionately. "I forgave my mother," says Wanda, "and I took care of her when she needed me." She lived with and became her mother's caregiver until her death. "She died where she wanted to, in her room, peacefully, with no pain."

It was while Wanda was taking care of her dying mother that she first noticed the symptoms of tardive dyskinesia. "Sometimes when I ate it was hard to swallow," she says, "And I would grind my teeth a lot. When I would talk I would make my hand into a fist, to try and keep them from moving." She had been unsure of what was causing the movements, but she found it irksome and troublesome. She reported the developments to her doctors, who took action. Wanda learned of a treatment She was prescribed the only FDA-approved treatment for TD and sought out the medication. "My pharmacy in New Rochelle wouldn't carry it," she says. Her local pharmacist connected Wanda with Orsini, a specialty pharmacy that distributes the medication.

Orsini has remained involved and part of Wanda's extended support team. Orsini's TD Care Team worked closely with Wanda's doctor to get prior authorization for her medication and connected her with a patient foundation that provided financial assistance, resulting in Wanda saving thousands of dollars on the drug she is taking. "Orsini calls me every month to make sure it's working for me. If I don't call them, they'll call me." Wanda is thankful for the reminders, especially as her memory has gotten worse. Medication continues to help Wanda keep the symptoms of TD at bay, giving her more time to focus on rebuilding her life. It is another small victory - one of many for Wanda. By managing her health, including TD, she is resolute to continue her recovery.

Central to this is maintaining trust and good communication with her therapists and providers. "I write down whatever I remember. I'll always tell my therapist that. I'll always tell him the truth." Utilizing the same teamwork that benefited her in youth, Wanda has made enormous strides in healing herself, and readjusting to the world around her.

The wind blows Wanda's hair, tied in a ponytail around as she and a group of friends head out to the beach on a summer's afternoon. With her schizophrenia and TD under control, Wanda is able to hang out with friends, whom she trusts and feels safe around. "Me and my friends, we go out to the park to BBQ; just hang and talk or go fishing." With music playing and food sizzling on the grill, she relaxes and smiles, riding the positivity around her. A rousing track gets amplified through the group's speaker and she begins to sway her hips, dancing to the rhythm. "I'll dance, even if I'm by myself," she relays. "As long as the song is good." She sings the chorus, slightly off-key but full of heartfelt enthusiasm. Casual, fun afternoons like this are actually hard-fought victories. With trust, honesty, and proper support, Wanda is looking toward a future with more dancing, friends, and a comfortable place to call home.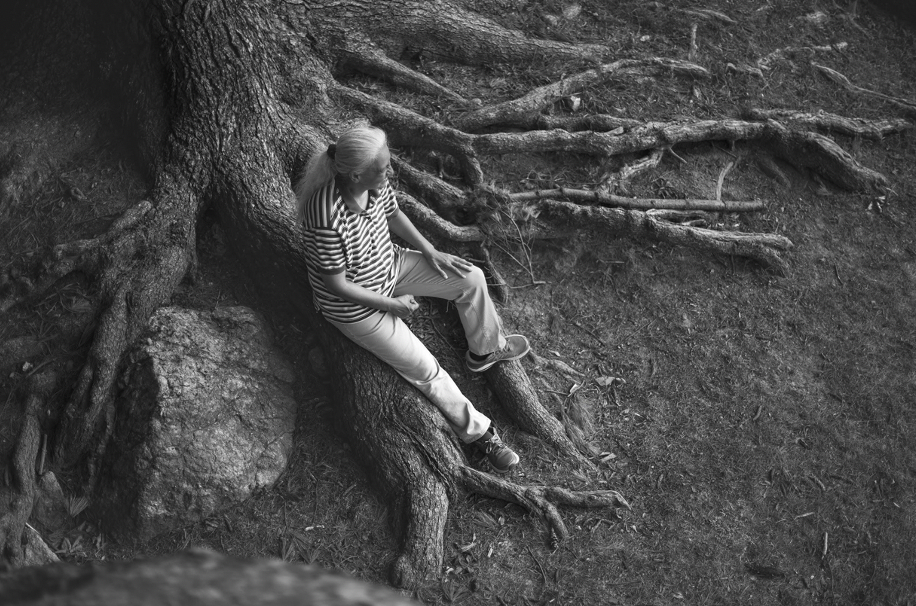 What is Tardive Dyskinesia?
​
Tardive dyskinesia (TD) is a neurological movement disorder typically characterized by repetitive involuntary movements of the jaw, lips and tongue, and some individuals experience involuntary rapid jerking movements or slow, writhing movements in the arms and legs. The condition is a result of long-term use of certain types of neuroleptics, such as antipsychotics or major tranquilizers.
​